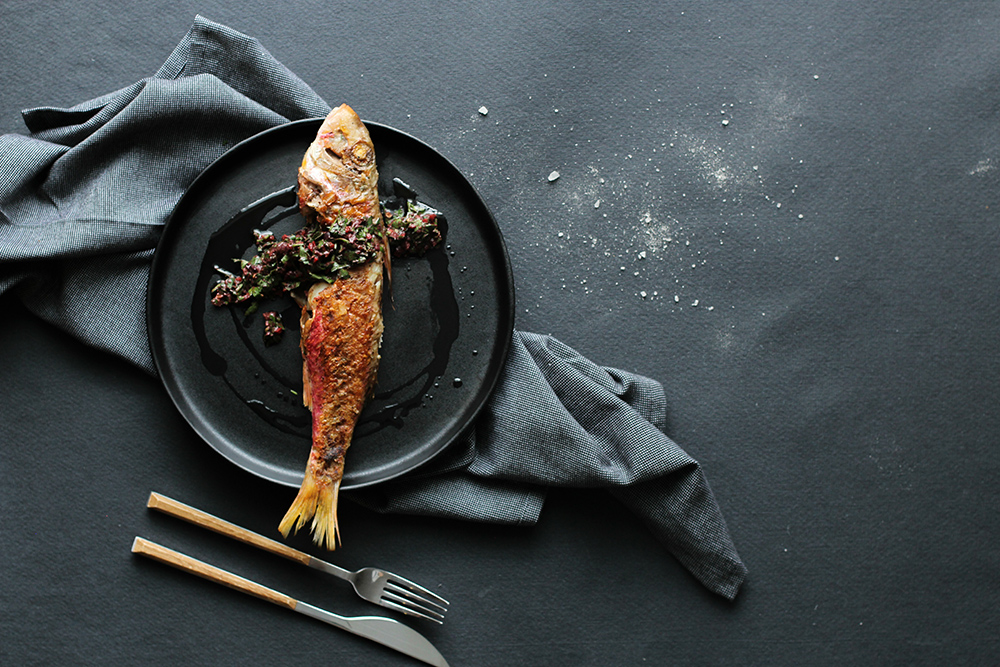 1. Season the red mullets with salt and pepper and a liberal splashing of extra virgin olive oil. Put them in the
fridge and let them sit for one hour while preparing the olive tapenade sauce.
2. In a mixing bowl add three tablespoons of the olive paste . Chop the garlic clove and
the chilly finely and add them to the mix. Pour in a generous amount of extra virgin olive oil to loosen the sauce.
3. Chop roughly the parsley to add crispness and freshness to the sauce. Add some lemon zest.
Then carefully balance the flavours with some lemon juice to taste. You don't need to season the
mix as the olive paste is already salty.
TIP! you can use some extra chopped olives to add some coarse texture to the sauce.
4. Preheat the pan to a medium-high heat. Put the fish on and let it cook for 2-3 minutes each side
depending on the size of the fish. Try not to move it around at all. Once cooked, carefully put the
red mullets on the plate. Serve with the olive sauce and a sprinkle of extra virgin olive oil.
600gr of red mullets, scaled and gutted
3 tablespoons olive paste
1 clove of garlic
1 small handful of flat-leaf parsley
1 fresh chilly, deseeded
1 lemon
unrefined sea salt and pepper
Extra Virgin Olive Oil
Ανα 100γρ./ per 100g

Λιπαρά / Fat
εκ των οποίων / from which
κορεσμένα / saturated

Υδατάνθρακες / Carbohydrate
εκ των οποίων / from which
σάκχαρα/ sugars