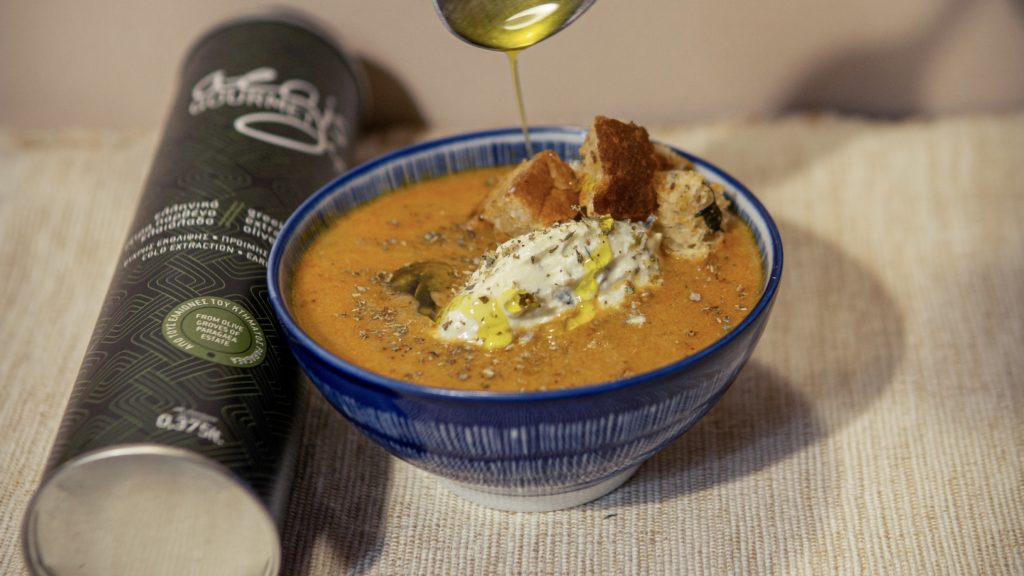 We clean and cut our vegetables into cubes. Be careful to remove the spores from the tomato.

Place a saucepan over medium heat and add the olive oil, onion, leek, celery, carrot and mushrooms. Saute for 7-8 minutes, until they sweat (not take on color).

Add the pulp and continue sautéing for 2-3 minutes. 

Then add the sugar, the coarsely chopped tomatoes, as well as the broth.

Cover the pot and cook for 35 minutes or until all our vegetables are soft.

Remove the pot from the heat and strain the vegetables keeping the liquids from the pot in a bowl. 

Place the vegetables in portions in the blender together with a little liquid and mash them until they become a uniform cream.

Put the soup back in the pot and simmer on low heat for 3-4.

Serve the soup in a deep dish with a tablespoon of yogurt in the center and sprinkle with olive oil, croutons and a little chopped basil
Bon appetit!
6 large ripe peeled tomatoes
1/4 cup Aegis Gourmet Evoo
1 chopped onion
1 clove of garlic, finely chopped
1 chopped carrot
1 piece of chopped leek
1 sprig of chopped celery
5-6 white mushrooms in slices
1 tbsp. tomato paste
500 g of chicken broth
1 tbsp. sugar
salt
freshly ground pepper
1 cup of yogurt