Sautéed Beef Sirloin with Balsamic Dressing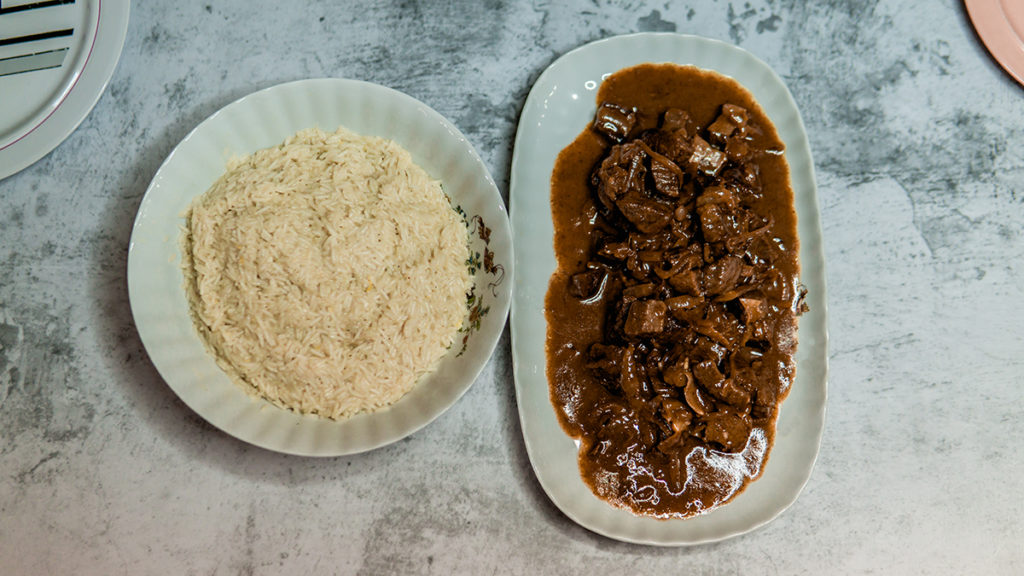 For the onions:
Cut the onions in thin slices 
Place a pan over medium to low heat and add some extra virgin olive oil.
Add the onions, salt and let them caramelize over low heat. 
Add some water if necessary to prevent them from burning.
Remove from heat when they are ready and keep them aside. 
For the beef:
Cut the beef in small cubes
Place a pan over high heat and add some extra virgin olive oil.
Add the diced beef, season with salt and pepper
Sear the meat until it turns golden – brown.
Turn the heat to medium-low and add water to cover the beef and cover the pot.
Keep adding water gradually until the beef is cooked.
When the beef is ready and has absorbed all the liquids add the caramelized onions and the Balsamic Dressing. 
Let it cook for 2-3 minutes until the balsamic dressing comes to boil. 
Add some water in case the sauce gets too thick.
For the basmati rice:
In a pot add 300g basmati rice, 600ml water, zest from a lemon, 2 branches of rosemary, 3 tablespoons of extra virgin olive oil.
Place the pot over high heat, stir frequently until it comes to boil.
Lower the heat to medium to low and let it boil slowly until the rice is ready approximately 15 minutes.  
Third header

Third header

Ενέργεια / Energy

405 kcal
2951 kJ
Λιπαρά / Fat
εκ των οποίων κορεσμένα / from which saturated
140,1g
17g
Υδατάνθρακες / Carb
εκ των οποίων σάκχαρα / from which sugars
99,7g
6,2g

Πρωτεΐνες / Protein

32,4g

Φυτικές Ίνες / Fibers

3,5g

Αλάτι / Salt

0,01g